We love Charities
We are committed to producing moving, engaging and emotionally rich films.
Our work takes us across the UK and overseas. We've filmed families living in poverty and devastated by war, refugees and babies with life threatening heart conditions. We produce films that highlight the heart breaking medical conditions, disabilities or poor mental health that individuals or families can go through, and the profound impact that a charity's support can have.
We help survivors to tell their inspiring stories of courage. Our award, appeal and campaign films make a difference, so that you can too.
We love Industry
Underground, Overground, Network Rail and Crossrail; we have cameras in the tunnels, on the trains and in the air; capturing some of the finest engineering projects in Europe.
We work with small businesses through to global firms; following apprenticeship schemes, recording company achievements and celebrating the best in business.
We love Marketing & PR
The power of a story is a profound one. It can help you connect with and move your audience, and make your material more memorable. We help a number of organisations get their story, product or campaign out there.


The truth is, everybody has a story to tell.
What's yours?
Our clients
We make films for a variety of clients - from public bodies to PR agencies and multi-national companies and organisations. Our customer base has grown from recommendations and that's the way we like to do business. Ask them!
"Millie and her team have a real understanding for what people want to see and really get to the heart of making fairly straight-forward railway engineering come alive through film. I'd most definitely recommend."
Sara Peters, Senior Stakeholder & Comms Manager
"Media Spaces has become an extension of the Stroke Association family. They understand, empathise and relate to our cause with complete harmony. Their beautiful and inspiring films are changing people's perception of this devastating disease."
Tony Banks Conference and Events Manager
"A professional service delivered time and time again. Excellent value from a team who work tirelessly to deliver that perfect end result"
"Media Spaces made some fantastic impactful films for our campaign. They are experts at putting case studies at ease."

Elspeth Massey, Head of Comms
"The quality of their filming is great, their ability to edit to a desired outcome is incredible but that only comes about because they get our business - a very rare combination - and did I mention they are great to work with?"

Mike Crook, Marketing Manager
"From the beginning, Media Spaces recognised the complex messages that Variety wanted to transmit and produced something fresh and creative"
Andreas Andreou, Events and Digital Media Assistant
"A real pleasure to work with. Always happy to edit and work everything exactly to our needs. Looks forward to other opportunities to work together in the future."
Michael Duncan
"We love working with Media Spaces.They completely understand both our brand and our audience. Everything they produce for us is done to an exceptionally high standard. I would highly recommend them."
Rafi Cooper, Director of Comms
"We've worked with Millie and the team at Media Spaces for over 5 years. They've always demonstrated great professionalism and flexibility; important given most of this work involves filming senior doctors."
Rod Ball, Director


GoProFile Team
Millie Cortizo
Managing Director
Bex Bohea
Assistant Producer
Lauren Pushkin
Director/Editor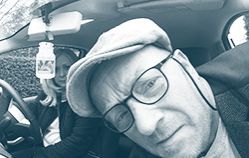 Declan McCaughey
Cameraman
Kady Braine
Assistant Producer
Tracey Marsh
Editor/Animator
Our films
Here are just a few examples of films we've produced recently. Please get in touch with us if you'd like to see anything specific.
Get in touch
50-52 Camden Square
London
NW1 9XB